Object Resurrection
A week-long workshop run by Rafael El Baz and myself, that explored how cross-disciplinary methodologies could be applied to bring value to discarded objects.
#workshop
#tutoring
#circulareconomy



Object Resurrection ran at the Royal College of Art during AcrossRCA week, taking in 17 students from across the college.






According to the UNU, around 40 million tonnes of consumer electronic products end up in landfill each year. Participants of Object Resurrection utilised thrown-away everyday consumer electronics in the likes of printers, toasters, and irons, and demonstrated the infinite possibilities of re-imagining and re-creating something entirely new in terms of concept, purpose, function and form for pieces that would have otherwise been regarded as waste.







Small groups of designers, artists and makers were formed, on one hand, to encourage everyone to contribute with their own specialist strength, on the other hand and perhaps more importantly, to expand their creative thinking with new functions, emotions, or contexts. The outcome from each group's dissection and re-imagination are an eclectic and stimulating collection of designed objects, art pieces and everything in between, challenging the boundary and reach of the current understanding of the circular economy.





Exhibition

Myself and Raf curated an exhibition of the groups' outputs that was displayed in the RCA's Hockney Gallery.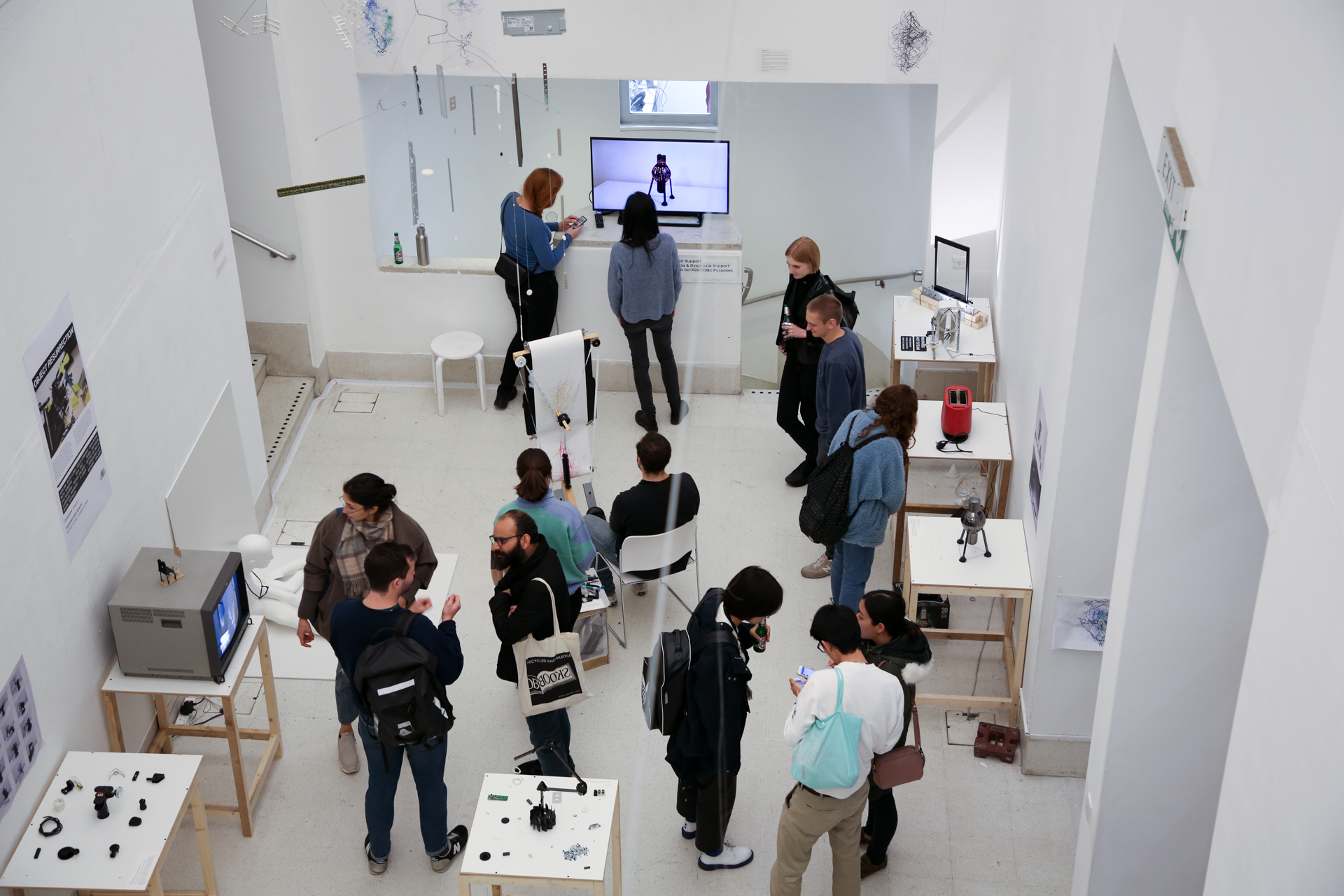 Selection of participant's outputs:


HANDS-FREE DRAWING MACHINE
by Bethany Walker, Elliot Lunn, Matteo De Bellis, Izzy Smithson
Made from: discarded exercise stepper machine, broken HP printer, waste wood








MOBILES
By Beth Elen Roberts and Wen Xin
Made from: broken M-Audio keyboard, broken HP printer, string & wire

Beth's:



Wen's:




EPHEMERAL NOTES PROJECTOR
By Sean Irving & Yilin Gao
Made from: discarded iron, broken HP printer, broken fan, lamp, waste wood

By pressing the steam button on the iron, a jet of steam is shot at the glass panel (from the printer/scanner), condensing on the glass. The user then uses their finger to write a message on the glass, and the resulting message is projected onto the wall behind, but only for as long as it takes the condensed steam to evaporate. The grill from a broken fan hides the hot plate of the iron for safety.


MORE SOON...